Goodyear Bundle Deal
$149 for Two Eagle F1 Tubeless Tyres + FREE sealant & shipping 
Discount applied at checkout, sealant shipped with order. 
Developed for Speed
The new Eagle F1 and the Eagle F1 Supersport models hug the road with the DynamicGSR compound, which combines Graphene and Silica. Between them, they increase both wet and dry grip while still rolling fast.  Both of these F1 models use a supple 120tpi casing and Goodyear's R:Shield puncture protection cap. On this Eagle F1 the cap is a little wider, and the rubber on top of it is just a hair thicker but maintains the mild texturing making it a light, ultra-high performance, all-round road race tyre.
DYNAMIC COMPOUNDING
Dynamic: GSR - Graphene Silica Road - Improved Grip, Reduced Rolling Resistance and Longer Wear
PROTECTION
R:Shield - Improved puncture protection under the tread while maintaining overall performance
DUAL INTEGRATED TREAD ZONES
Keeping the driving and braking forces aligned properly as cornering forces come into play.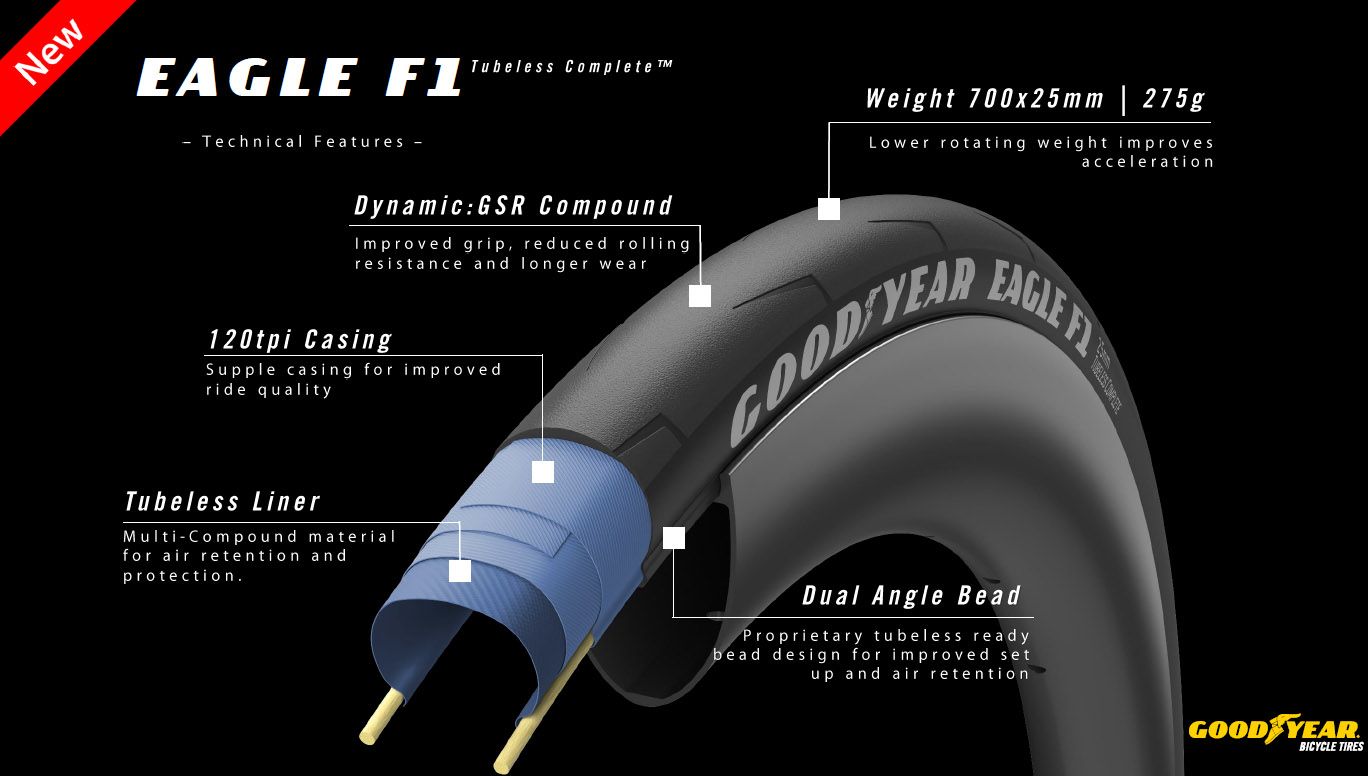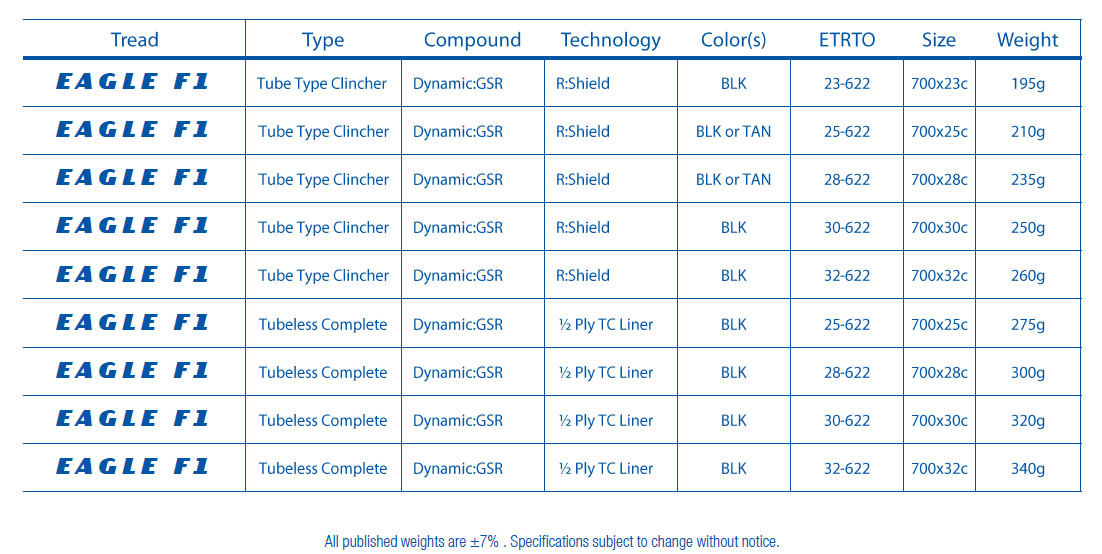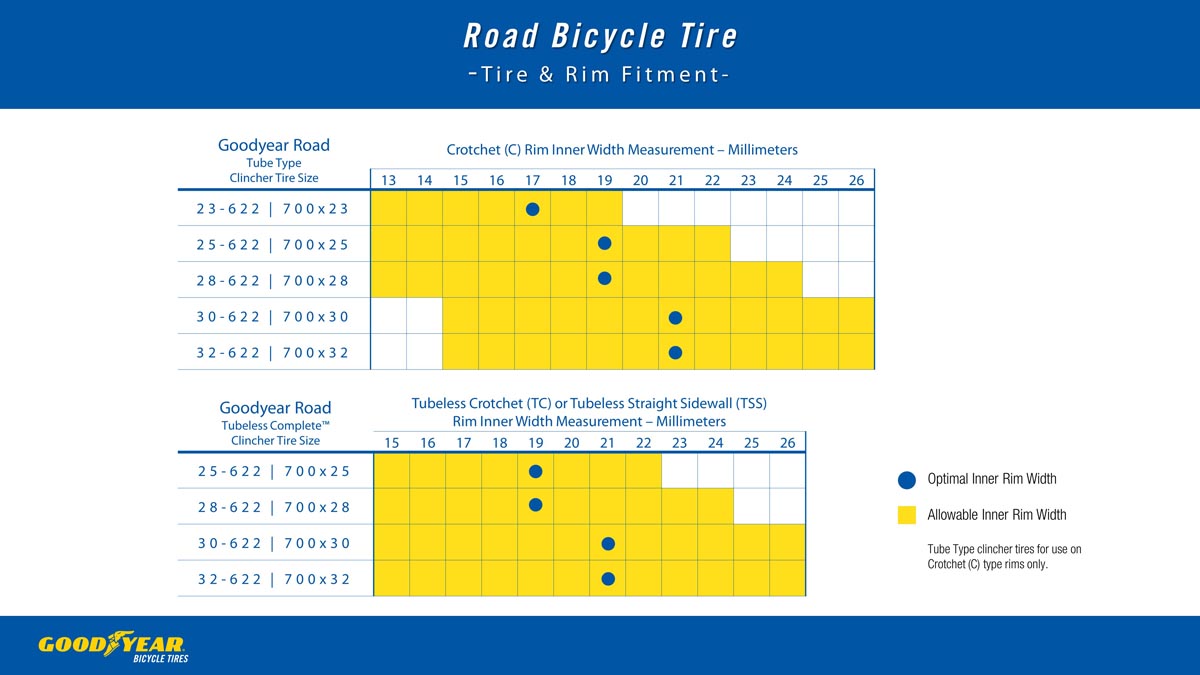 ---
The Story
The Goodyear name first appeared on a tyre — a bicycle tyre, to be precise — in 1898. Since then, Goodyear and the legendary Winged Foot™ logo have been synonymous with victory, dominating the winner's circle across the entire spectrum of motorsports. Goodyear tyres have shouldered heavy-duty work on everything from airplanes to Zambonis. They've rolled on the moon and have helped steer millions of motorists along their journeys.
Now, 120 years after Goodyear's original offering, we welcome a new line of performance bicycle tyres. Developed with Rubber Kinetics, the Goodyear line utilizes refined compounds and casings, each purpose-built for their intended environments.
CONFIRMATION OF ORDER
Once you have chosen your items and have placed them in the shopping cart you will proceed to the Checkout. Here you will be required to enter your contact and payment details. Please note this information clearly in the required box.
Once you submit your order a final confirmation screen will appear.
RETURNS AND EXCHANGES
If for any reason you are not completely satisfied with our product(s), Wide Open Distributors is happy to replace the item(s) with another choice or size.
Please simply return the item to us in the same condition as you received it, with its original packaging and all relevant paper work.
This guarantee applies to a period of 20 days after the invoice date.
For your security we would recommend that you return any items by insured courier or registered mail and retain your receipt as Wide Open Distributors is not responsible for any item lost or damaged in transit.
Unfortunately we are unable to refund freight costs.
If any part of your order arrives damaged, faulty or is not the correct product please notify us immediately and we will organise for the item to be collected at our expense and a replacement product sent to you.
PAYMENT OPTIONS
All prices quoted on this site are in New Zealand dollars (NZD).
Wide Open Distributors accepts as payment Visa & Mastercard.
SHIPPING METHODS AND COSTS
For all orders there will be an additional freight charge.
Delivery to any destination in New Zealand will be by courier. The estimated time of arrival for your order once payment has been validated is 1-2 working days.
Unfortunately, we are unable to ship to P.O. box addresses.
SECURITY
This web page is secured using a Digital Certificate.This ensures that all information you send to us via the World Wide Web will be encrypted and unable to be intercepted. All credit card numbers are stored in encrypted format only and are removed from the system upon verification.